Want to buy a Fleshlight? Live in the UK? Let us guide you.
Pink Butt Fleshlight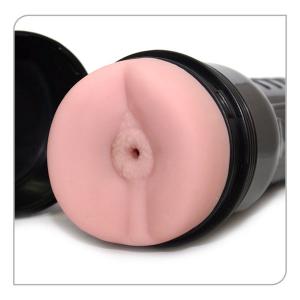 Our soft, pliable, non-vibrating Real Feel Super Skin sleeve is made from a patented, high-quality material and is designed to replicate the sensations of penetrative sex. Our molded gel insert comes housed in an attractive and sturdy canister that resembles an ordinary utility flashlight. The Fleshlight is easy to use and clean and is 100 percent safe. Designed for discreet storage, the Pink Butt is guaranteed to give you hours of pleasure. With proper usage, your Fleshlight will last a lifetime. Insert has a mild vanilla scent. Also includes a free sample lubricant.
The Original Butt opened the door (back door, that is) Go where you've never gone before. Let your most erotic desire be fulfilled. Our Butt orifice, unlike the Mini-Maid orifice, lets you see the point of insertion, allowing you to experience the joy of entering your partner's most forbidden area. Take this one slow at first and allow the tight opening to hug you tightly as you penetrate inward.

Black Fleshlight case included!
Also includes a free sample lubricant.