Want to buy a Fleshlight? Live in the UK? Let us guide you.
Pink Lady Fleshlight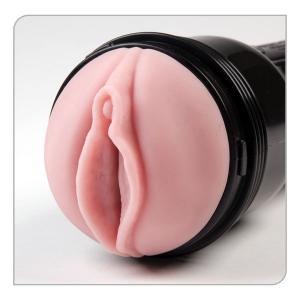 If you seek an incredibly realistic experience, the Pink Lady Fleshlight is for you. Our soft, pliable, non-vibrating Real Feel Super Skin sleeve is made from a patented, high-quality material designed to replicate the unmistakable sensations of penetrative sex. The molded gel insert comes housed in an attractive and sturdy canister that resembles an ordinary utility flashlight, allowing for simple and discreet storage. The Fleshlight is easy to use and clean and is 100 percent safe. With proper usage, your Fleshlight will give you a lifetime of enjoyment. Insert has a mild vanilla scent. Also includes a free sample lubricant.
The Original Pink Lady Fleshlight has introduced more men to the pleasures of the Fleshlight than any other insert. When you penetrate this lady, be prepared to take sexual gratification to new and exciting levels. This smooth textured insert is a realistic recreation of a young woman's vagina.

Includes black Fleshlight case!
Also includes a free sample lubricant.