Want to buy a Fleshlight? Live in the UK? Let us guide you.
Pink Stealth Wonderwave Insert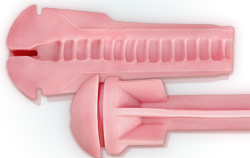 A masterpiece! We begin with our super tight, silky smooth feel. Then on top of that unbelievable velvet texture we layer ripple upon ripple of sensation, each one specially designed to enhance feeling on both the inward and outward strokes. The effect is mesmerizing. Cast off your inhibitions and slip into the undulating waves of pure pleasure. Click the 'More Info' or 'View Larger' links for a look at the inside. This view from the inside shows exact detail of the waves of sensation. Laid in at just the perfect angle, these ripples are an experience unmatched. Combine that with our super tight feel, and you are enveloped in a world of infinite pleasure. If you have ever wondered what the very best possible penetrative sensation could be, stop wondering. This is it. Be sure to grab an empty FleshLight case, if you don't already have one.
The Pink Stealth Wonder Wave Masturbation Sleeves textured waves along the length of the canal provide a powerful sensation while providing the control necessary to fully appreciate the Fleshlight experience.

Canal Diameter: 1/2 inch
Length: 10 inches
Diameter: 4 inches to 2.5 inches
Case: Not Included.

NOTE: The insert in this photo has been cut in half, so you can view the inside. It will not ship this way. Be sure to grab an empty FleshLight case, if you don't already have one.