Want to buy a Fleshlight? Live in the UK? Let us guide you.
Pink Fleshlight Stamina Training Unit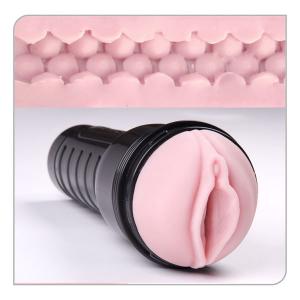 What does every great performer in the history of the world have in common? They all have hours of practice (under their belt). The problem with sexual performance is that there hasn't ever been an effective way to train. Even those who have frequent intercourse still have to abide by the pressure of pleasing a partner. The Fleshlight PVSTU allows you to take that pressure off and train yourself in an environment that simulates the unmistakable feel and intense sensation of intercourse, without the pressures and anxieties of trying to perform. Whether you are looking to improve your skills or maintain your abilities, this is the one single product that can exalt your status to that of a sexual legend.

Now includes the Fleshlight Stamina Training Unit Field Manual available from the tracking screen when your order is complete.
Enhance your sexual prowess!

The key to lasting longer in bed and becoming the lover that every girl dreams about is not a cream, not a pill, and not a potion... Its PRACTICE. The Fleshlight STU (Stamina Training Unit) masturbation product is a sex toy for men specifically designed to replicate the incredible sensation of sexual intercourse in order to help you find your rhythm and obtain peak sexual performance. With our patented Real Feel Super Skin masturbation sleeve and a specially designed inner canal texture the STU provides the most intense and pleasurable training experience possible. Just follow the Sexual Stamina training routines in our exclusive e-booklet available at purchase and you will have all the tools necessary to have total control over your ejaculation. When you masturbate using the Fleshlight STU, not only will you be improving your sexual stamina and techniques, you'll experience the intense orgasms that can only be achieved by using Fleshlight sex toys for men. If you can last 10 minutes in the STU, you can last 20 minutes in bed with anyone. The Fleshlight Pink Lady STU comes complete with the exclusive Gold Fleshlight Case.

Included FREE with every purchase is the STU field manual. Within this online guide, accessible from the tracking screen upon purchase of the product, you can hone the skills of brinksmanship, practice psychological diversions, even improve and explore different rhythms and methods of penetration all with a sex toy that is so realistic that the transition will be seamless.